UV DTF Transfers
Welcome to DTF Virginia, the ultimate destination for all your UV DTF transfer stickers and labels! With UV direct-to-film transfers, the designs are printed directly onto the surface of the substrate using a specialized inkjet printer and transferred with UV light. This process is ideal for printing on products that are difficult to print using traditional methods because it produces a smooth and durable image that won't crack or peel over time.
UV DTF transfers are great for labeling automotive parts, plastic containers, and other items to add a personalized touch. Get creative and show off your design, logo, or product information with UV DTF stickers.
Unleash Your Creativity with Our Exceptional UV DTF Transfer Services
UV DTF Transfer Stickers For Synthetic Fabrics

Our best UV DTF stickers securely adhere to synthetic nylon and polyester fabrics. They are ideal for creating custom apparel and accessories that will retain their vibrant colors for years to come. These are perfect for labeling apparel like hats, shirts, and jackets. The image is vivid, crisp, and resistant to fading or cracking.
UV DTF Labels for Automotive Parts and Containers

For durable labels on automotive parts and containers, our UV DTF labels are the ideal solution. They resist moisture and chemicals so that they won't become damaged or fade over time. The text and images are printed with excellent clarity. Moreover, we print these labels in a variety of shapes, sizes, and colors to perfectly fit your needs.
Full-color UV DTF Printing

Is your product or design complex? If so, our full-color UV DTF printing is the perfect solution. We use the latest digital imaging technology to produce stunning results with up to eight colors. A wide variety of substrates, including plastic, metal, and glass, can be printed with full-color UV Direct to Film transfers.
Custom UV DTF Transfer Solutions

If you don't want our UV DTF ready-to-press transfer stock, you can contact us for custom solutions. No matter if you are going to print a logo, special text, or image, we can create the perfect transfer for you. You can also order bulk orders at great discounts. Be it a text, image, or a combination of both, DTF Virginia can create the perfect solution for your specific need.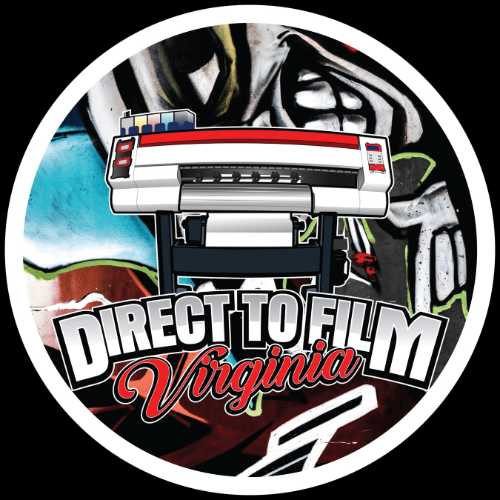 No More Search For 'UV DTF Transfers Near Me'
our UV DTF transfer print is a new way to cut out the middleman and get the same quality prints in a fraction of the time.
Many companies, brands, and enthusiastic people who are ready to take art to the next level and celebrate the joy of any event can purchase our UV DTF prints in bulk to make their own themed clothing. It is a perfect way of celebrating, branding, and standing out among others. So, no need to browse UV DTF transfer near me when you can just hit DTF Virginia online for your needs.
Choose Us & Hit the Ground Running with Our UV DTF Transfer Stickers
Superior Quality

We use top-of-the-line machinery, inks, and materials to create UV DTF transfers that are durable and reliable. Our state-of-the-art equipment and processes guarantee a superior quality product every time.
Quick Turnaround

We ensure a quick turnaround time on all orders, so you can get your order right when you need it. Our production team is dedicated to ensuring your order is completed on time and to your specifications. We deliver all around the USA.
No Peeling & Last Forever

Who loves peeling stickers? Nobody! That's why our UV DTF transfers are weather and water-resistant and designed to last a lifetime or longer. The coating is made of polyurethane, which is tough and built to withstand years of use. So you will experience no fading and peeling.
Cost-Effective Pricing

Using a digital transfer system, this is the most money-saving method compared to other types of transfers. Additionally, you don't have to order large quantities of products to get a discount. Our competitive pricing helps you get the most bang for your buck.
Easy to Use

There is no need to use Teflon paper or special machines. You only need to print the design and apply it directly onto the surface for great results. Our UV films are easy to apply, so even beginners can get the job done in no time. Plus, there is no need to worry about alignment, either.
Step-by-Step Guide to Perfect UV DTF Stickers Application
Step#1: Preparing the Surface

Make sure you have a clean, dry surface before applying your UV DTF Transfers. Make sure the surface is free of dust, dirt, or any other unwanted particles that could interfere with the transfer's adhesion.

Step#2: Apply for the Transfer

Once you have prepared the surface properly, it is time to apply your UV DTF Transfer. Peel the back sticker gently and apply it to the surface. Then, press it firmly so that no air is left between them, and carefully smooth out any wrinkles until the transfer is perfectly attached to the surface.

Step#3: Remove the Protective Film

It is time to remove the protective transfer film. Peel off the clear film slowly and carefully so you don't lift any parts of the transfer. Make sure to be gentle during this step. If there are any stubborn bits, you can use a blade to remove them carefully.

Contact us to dive further into UV DTF Transfers and other printing-related questions. We are always here to help you out.